Description
Saim Series - SCH50
The cutting-edge design of the Saim Series thermal imaging sights just got better... Say hello to the SCH50! An even more outstanding performer with all the features you expect from the Saim Series. Adjustable image brightness and contrast function, Powerful processing chip, it also integrates with more image processing algorithms, providing clearer and more defined images. Now with a top end thermal core & OLED display, the SAIM series range is now complete.
The Top of the Range SAIM Series
Higher Image Quality
SCH50 adopts the larger 12μm thermal core with 640×512 resolution sensor, Larger 50mm objective lens, 1024 x 768 OLED display, and updated module algorithms, providing clearer & more defined images.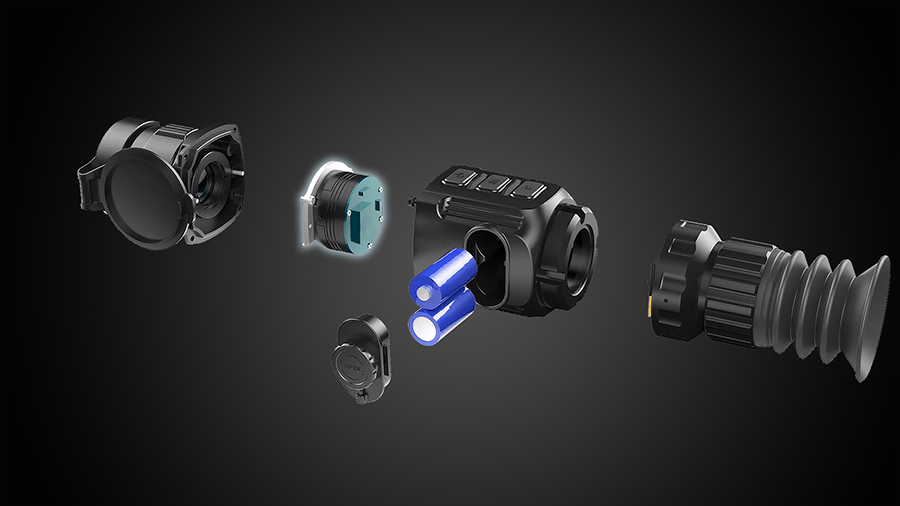 Higher Image Quality with a 1024×768 OLED Display
Upgrade OLED display. High contrast significantly improves the clarity, details, and layering of thermal images.
Ultra-Clear Mode
Ultra-clear mode is special for bad weather such as heavy fog and raining, that make Saim be more sensitive and get more details.
Adjustable Image Brightness and Contrast
Experienced users have more options in tuning the image for end-user preference. Adjust image brightness and contrast, providing better playability to suit you.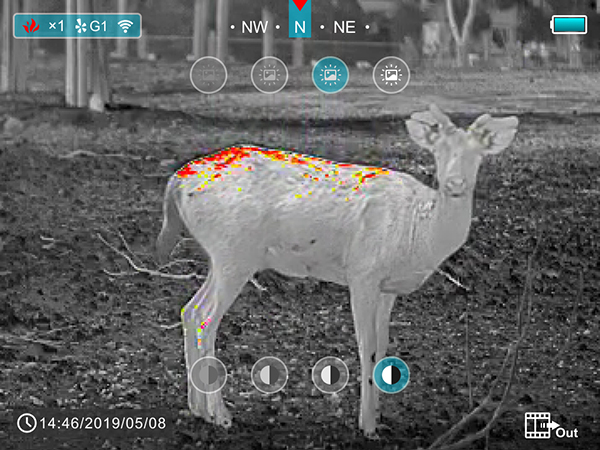 High Shock Resistance
The Saim series features exceptionally high shock resistance up to 1000 g/s2.
Eight different reticles and greater 2.81 visual magnification
To satisfy different hunting requirements of users, eight different reticles are designed for users to choose from. The more advanced 12um detector is adopted, which has a greater visual magnification 2.81× and detection range 1818 meters.

Picture-in-Picture Function
Picture-in-Picture improves accuracy by providing a 2x magnified image of the reticle area at the top of the display. It helps to magnify the target while retaining the rest of the field of view visible.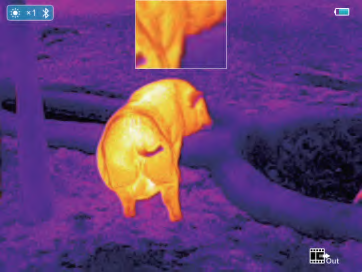 Built-in Video recorder and WiFi connection
With 32Gb of internal memory which can store videos and photos taken with the SCH50.
The wifi hotspot of the product supports simultaneous connection of up to four devices.

Built-in Accelerometer and Digital Compass
Built-in accelerometer and digital compass improve accuracy by precisely identifying angle and inclination. The Saim Series can indicate the direction and degree of lateral tilting.
SAIM Series - Product Specifications
Model

SCP19

SCT35 V2

SCH50

Resolution

256 x 192

384 x 288

640 x 512

Pixel Size, um

12μm

NETD, mk

≤40

Frame Rate, Hz

25Hz

50Hz

Objective Lens, mm

19mm

35mm

50mm

Field of View

9.2° x 6.9°

7.5° x 5.7°

8.8° x 6.6°

Magnification, ×

2.3x ~ 4.6x

2.81x ~ 11.24x

2.91x ~ 11.64x

Diopter Adjustment

- 5D ~ + 5D

Display Resolution

1280 x 960 LCOS

1024 x 768 OLED

Magnification

1x / 2x / 3x / 4x

WiFi & Recorder

✖

✔

✔

Compass & Msensor

Msensor only

✔

✔

Amount of built-in memory, GB

✖

32Gb


Battery Type

CR123 x2 (NOT INCLUDED)

Max. Operation time (at t=22°C)* dependant on WiFi, recording use

6 hrs

4 hrs

3.5 hrs

Weight (without batteries), g

< 380 g

< 420 g

< 510 g

Dimension, mm

186 x 61 x 61

195 x 61 x 61

216 x 61 x 61

Detection Range (Target size:1.7m x 0.5m, P(n)=99%)

986 mtrs

1818 mtrs

2597 mtrs

Warranty

3 Year Manufacturers Warranty
Extra Information
Warranty Information
3 Year Manufacturer's Warranty
Videos