Published by GoingDark on 24th Jan 2022
One of the latest thermal spotters from InfiRay is the big brother in the Cabin Series collection, but first, let's look at the original!
This compact unit is a bit different to most, as it seems to include concepts from other devices. All the usual InfiRay features but with a surprise, which I guess is meant to appeal to not only the hunting crowd but also the camping and wildlife conservation groups.
From the technical side, there's nothing new, with the very capable InfiRay 384x288 sensor at its core, but as far as it's design characteristics, it is definitely a bit different. Upon opening the box, the first thing you notice is the very out of place LED torch stacked right above the main objective lens, not something you would normally see on a thermal device. A welcomed addition to InfiRay thermal monoculars is the removable batteries (2x included with the device), complete with external charger. Although this is something Pulsar have adopted in their Axion range with the APS battery system for many versions now.
Another new look for InfiRay is the quick focus adjustment directly below the thermal objective lens. Utilising a paddle style shifter to find easily with or without gloves, makes it very easy to operate with just one hand. The other four buttons sit on top of the device to control all the other main features and navigate the menus.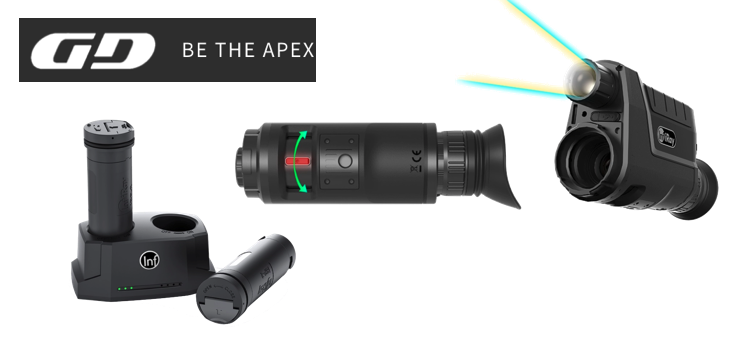 All the features we have come to expect from InfiRay, like multiple colour palettes, Picture-in-Picture, stadiametric rangefinder, video recording, motion sensor and digital compass, high refresh rate (50Hz) with Ultra-clear mode, and of course, WIFI connection to your chosen device to utilise the InfiRay App for live streaming and file transfers.
The image quality is what we've come to expect from a 384x288 sensor and a 19mm lens, but like all smaller lenses, they are likely to not perform as well as a larger variant in adverse conditions.The NETD rating is <40mk, so very reasonable.The cabin series thermal performance is best described as "Good all-round thermal device".
The magnification range is bang on, with a base mag of 2x out to 8x digital zoom.Although, the jury is still out regarding the addition of an LED torch, but it is handy to have an adjustable torch when cleaning up at the end of the evening or tracking downed game.Thinking about it, finding your way back to the ute after hours of tracking through unknown terrain is always a bonus, so, I guess the torch would have some use.
The build quality is good, tough plastic casing without adding the weight of some other materials. It feels nice in the hand and utilising various functions is intuitive. A more honed finish on some of the metalwork might have been nice but that's definitely not a deal breaker. It's compact, fits well inyour hand and has a lot of features jammed into this small thermal, a nice addition to the ever expanding range by InfiRay Outdoor.
For Full specifications, checkout our website;
Cabin Series - CBL19 - thermal monocular
Cabin Series - CBL25 - thermal monocular
GoingDark.com.au
Be the Apex!